When we first moved to this location, we were all together under one roof. In the core of what is now the Family Life Center, was the central corridor/lobby where our entire church family would gather after service for sharing life and community. Since we built our new adult worship space, we found the community we had worked so hard to develop was no longer a central part of our weekend experience. We have learned by speaking with parents (and architects) that our facilities in their current form are working against us, not for us. With that in mind, our desire for this project is to begin to bring everyone under one roof again to make that community experience central to our church.
Parents currently drop their kids off at their classes, then walk across the patio to the Lower Entrance of the adult worship space. The result, most people use that entrance, leaving our upper Main Lobby underutilized. By renovating the West Wing and Lodge, and by moving our kids (nursery through 5th grade) into that space, parents will be able to enter through the upper Main Entrance, drop their kids off, and all be in the same building (which parents prefer for obvious reasons.) We believe that this will help create some of the energy and momentum that was lost along the way.
Phase 1 - COMPLETED
To renovate the lodge and adjacent sitting area, and convert that space into a Nursery, Toddler and Mother's Only room.
Cost: $61,500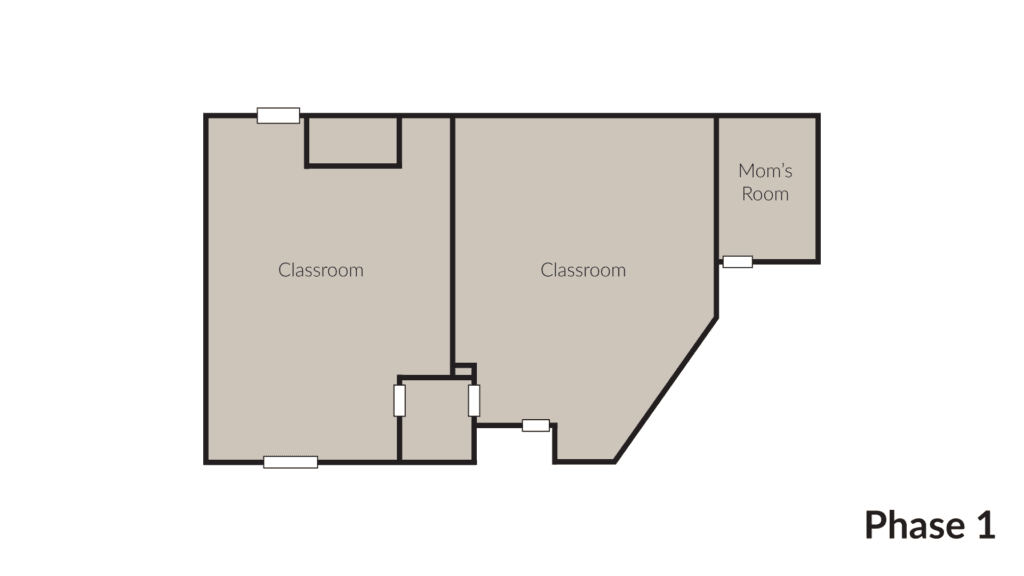 Phase 2
Build-out of the West Wing for K – 5th-grade classrooms and construct Check-In and secure foyer for children. Repair roof and install a new driveway to traffic light.
Cost: $300,000
Contributed to Date: $150,000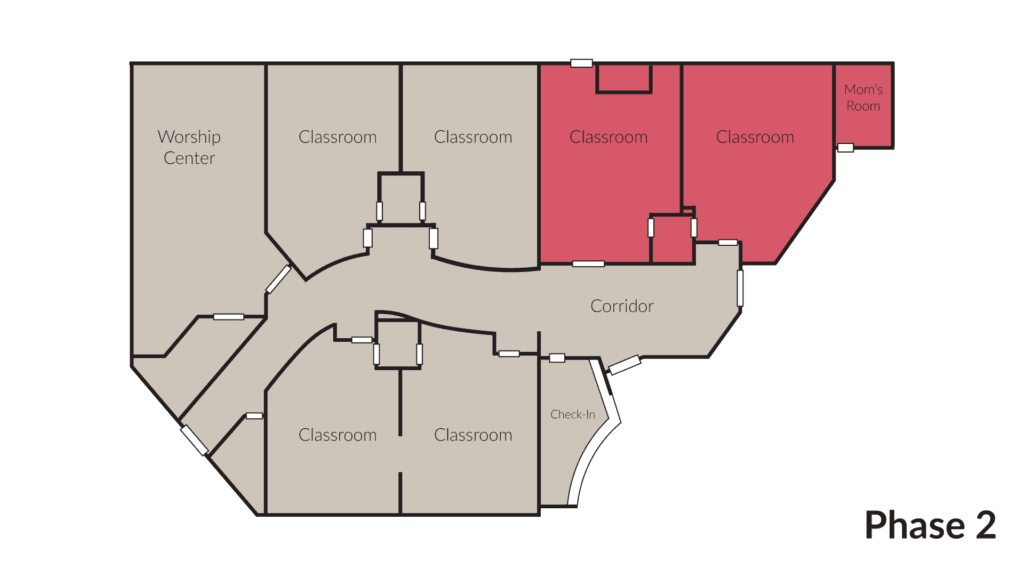 Phase 3
Complete build-out of the upper lobby. Relocate Tech Booth to Auditorium floor. Level balcony and expand upper lobby.
Cost: $400,000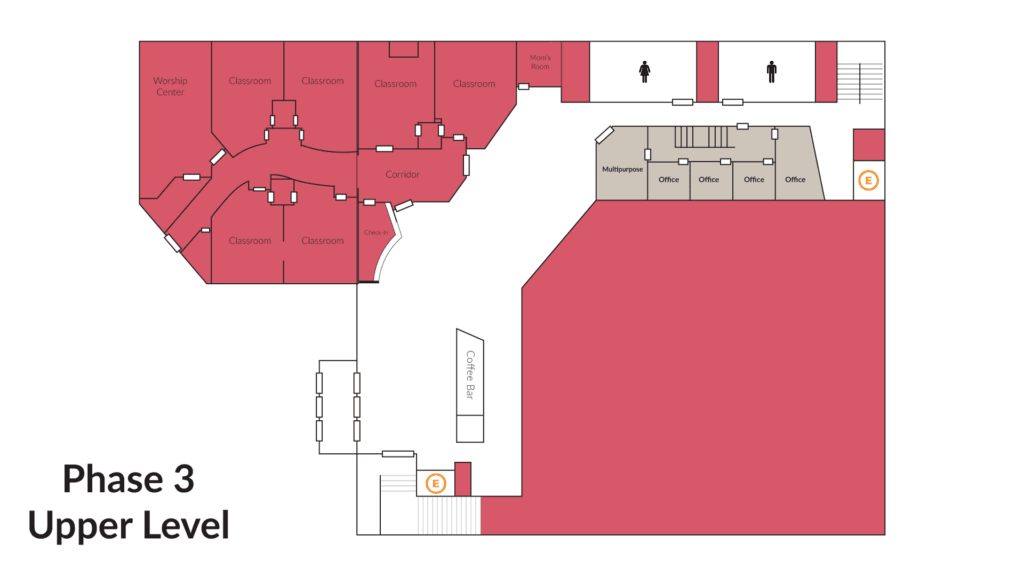 HOW TO RESPOND
Deliberate with God
Prayerfully seek God's Leadership. Ask God to shape your decisions. Walk through the doors God opens for you!
Define a sense of sacrifice in your life
What decisions and life-priorities could shape your sense of sacrifice in your Christian walk? How can you give in ways that make a difference to you? How is God stirring you about sacrifice related to Vision: 2018?
Determine your potential for giving
Pray and think outside the regular tithe box. Maybe you will include creative strategies for giving. "Inventory" what you've been blessed with and how that might affect your potential for increased giving.
Decide on a personal giving plan
There are multiple methods for giving to Vision: 2018. Your giving might include any combination of weekly, monthly, quarterly, annual, one-time, and/or asset transfer gifts. Put together your own personal approach to how you can help.
Project FAQ
What is happening to the Lodge?
The Lodge is going to become part of three rooms which will be for nursery thru toddlers and moms who need a private space to care for their babies.
What about the Lodge's fireplace?
Making the space child-friendly is of the utmost importance, and in order to do so, the fireplace will be enclosed behind a wall and preserved for potential use in the future.
What is the West Wing?
It's roughly 6000 Sq. Ft. of space that we originally planned to utilize as future office space. Since 2010, this has mainly functioned as storage. The goal is to turn this unused space into vKids rooms for Kindergarten thru 5th-grade children.
Is this really enough space for vKids?
Yes, we have worked with two architectural firms that specialize in church development to ensure that we will have ample space. When we reach maximum capacity, we can always add another service.
What will happen with the Vineyard Student Ministry?
Student Ministry will continue to occupy the space we upgraded for them in 2014.
What will happen with the vacant space in the Family Center?
We're in the process of researching the best way leverage the vacant space into a revenue generator. Our goals are to hold onto the facility for future potential, fund more ministry out of the revenue, and pay its maintenance expenses.
What is going to happen to the balcony?
To maintain a safe space for children and allow for ample community space in the lobby due to the influx of traffic, we must reclaim space for the expanded lobby from the existing balcony space. This area will also be closed during the earlier phases of construction for storage of materials and equipment.